Roots of the Salem Witch Hysteria Tour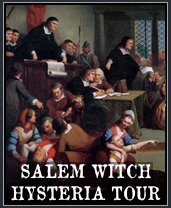 Take our multimedia self-guided tour of what had led to the Salem Witch Hysteria and the events that followed.
Roger Williams who founded Rhode Island was a minister in Salem before being expelled from the state. He was Oliver Cromwell's aunt's private chaplain. This led to another priest from Salem becoming Oliver Cromwell's personal chaplain that led him to regicide. This tour will teach you how these events led to 19 people being hanged and the American Civil War.
We will take you to the locations connected to the hysteria and tell you the tales of the people who tormented the souls of others and those who were prosecuted. How many of the events were inspired by revenge of past transgressions and grabs for property. We will also clarify how everyone was related at the time. Sometimes it is hard to keep track of the family relations of the women due to the fact they took their husband's name, we will clarify these relations for you.
On this tour you should rent a scooter/bike, walk, and drive.

Audio | Pictures | Maps | Video